Price

RM45.00

Product SKU
842978154565
Brand
PopSockets
Availability
In Stock

Color

Quantity
Description
Highlight
ORIGINAL PopSockets - UV printing with 3M Adhesive
Pop, tilt, wrap, prop, collapse, grip, repeat - PopSockets are great for enhancing the grip and capabilities of your phone.
Secure grips for texting, calling, photos, and selfies - compatible with all smartphones and tablets.
Works in landscape and portrait modes for watching videos, web surfing, texting, gaming, group photos, FaceTime, and Skype.
Allows your hand to relax while securely holding your phone - never drop your phone again from lost grip.
Advanced reusable adhesive - repositionable, washable adhesive sticks to most devices and cases (will not stick to some waterproof cases or silicone).​​​​

The PopSocket on your phone easily clips in and out of the PopClip.
A PopClip is ideal in providing hands-free use of your PopSocketed phone while in your car. PopClips are great for those who use their phone as a navigation system while they drive.
Attaches to surfaces with a single-use 3M VHB adhesive; it can be removed without leaving any residue with fishing line or dental floss; extra 3M adhesive is included.
PopClips aren't just for your car -- ​stick one to your​ bathroom mirror,​ refrigerator, ​bed post, ​office ​wall, or ​school/gym ​locker.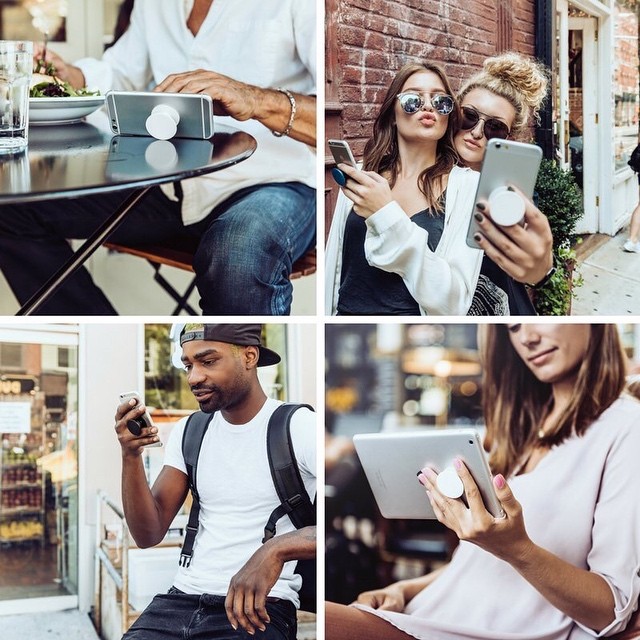 What is a PopSockets grip?
A grip. A stand. A chance to show off your style, whenever you want, however you want. And they aren't just for your phone either. Use them on your tablet and e-reader for some extra comfort. With the Mount companion product, they stick to nearly any vertical surface, including dashboards, mirrors, bed posts, refrigerators, and walls, for convenient hands-free viewing. Talk about a life changer.
What are PopSockets grips made of?
Polycarbonate, TPU, and polyurethane. Also, love.
What are the dimensions of a PopSockets Mount?
1.9" x 1.6" x .4" The part of the Mount that attaches to surfaces is about the size of a quarter (.9" diameter).
What's the anatomy of a PopSockets grip?
Platform: the circular piece that sticks directly to your phone or case. Accordion: the fun part that pops up and down. Button: the hard plastic or aluminum disk that has a color or design on it.
What are the dimensions of a PopSockets grip?
PopSockets grips have a diameter or 1.56". When collapsed, a PopSockets grip stands 0.25" tall. When expanded, it stands 0.9" tall.
What's in the box
1x Popsockets